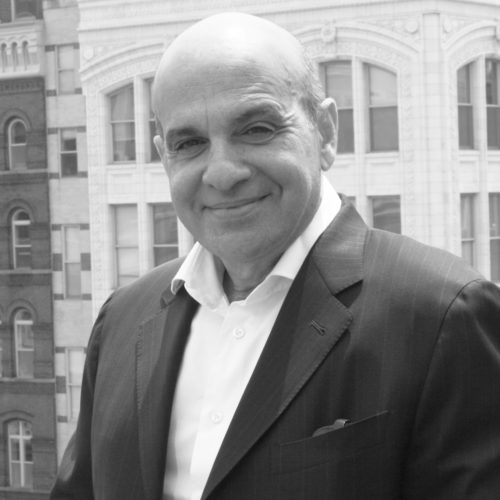 David Carmen founded Carmen Group in 1985 and has grown it into the premier bipartisan government affairs consulting firm, serving innovative corporations, non-profit institutions and governments worldwide. He has advised U.S. Presidents, Governors, Mayors and legislators on policy matters where creativity is essential to making government more responsive to an immediate priority.
Carmen is known for his expertise in Technology, Media and Telecom legislative and regulatory matters. He is the chief US advisor on such matters to Masayoshi Son and Softbank. Carmen headed the government affairs team for Softbank's acquisition of Sprint. He represents many of the leading edge companies driving 5G and the race towards ubiquitous global connectivity, connected vehicles, robotics, artificial intelligence and the Internet of Things (IOT). In addition to Softbank, Carmen represents OneWeb, Qualcomm, Global Foundries and many others in the TMT space.
Working with the White House, Softbank and Sprint, Carmen helped shape a program to provide connectivity to disadvantaged children now called, "The 1 million Project," which will provide 1 million devices and connectivity to children across America. Carmen also supports Education SuperHighway, the nation's premier non-profit working with the FCC to provide broadband to schools nationwide.
Operating "at the speed of change," Carmen Group professionals have assisted with strategic planning and legislative initiatives that have funded tens of billions of dollars in projects across the United States, Europe, Asia, Africa and Latin America.
David's consultative advice has been instrumental in the success of some of the largest public-private real estate and infrastructure developments of the past three decades. The company has advised 30 of the 50 states on the funding of infrastructure improvements including projects as diverse as the Salt Lake City Winter Olympics; the first new rail line in the Midwest in 50 years; the Hoover Dam flyover; Glenwood Pass in Colorado; LA and Napa River projects; Denver and Ft. Lauderdale Airports and many others. Carmen was involved in many of the most difficult issues surrounding the national and local responses to 9/11 and Hurricane Katrina. The firm's well-recognized expertise in health care policy has made it a key player for providers, particularly since the passage of the Affordable Care Act. Carmen Group's Education practice advises large university presidents and has developed a long-term record of success serving Historically Black Colleges and Universities.
In real estate, Carmen has represented some of America's largest and most innovative developers including Related Properties, Vornado, Silverstein Properties, Lerner Properties, Kaufman Jacobs, Trammell Crow, PN Hoffman, Douglas Development and Samitaur Construction. Client projects have transformed sections of Los Angeles, New York, Chicago and Washington, DC and elsewhere.
In Energy and Science, Carmen has worked with the Los Alamos and Oak Ridge National Laboratories on innovative public-private technology transfer initiatives and EDF's Citelum on Smart City projects around the world.
The rapid, deepening worldwide spread of democracy and transparency has created opportunity and challenges for enterprises, and even governments, to achieve great ambitions. David has brought an innovative vision to government affairs consulting —that effective campaigns must be informed by best practices and business discipline. He was the first principal to recognize that the modern era of disclosure has marginalized the old boy, horse-trading "access" model of advocacy. He staffed Carmen Group with expert bi-partisan professionals that generate superior client results through a rigorous focus on innovation, goals, execution and accountability. His client stewardship approach has elevated the firm's ability to contribute substantive, long-term, strategic business insight and achieve consistently superior value.
David has a long-time passion for film and has been involved in content creation since his student days. In 1999, he was a founder of Anonymous Content LLC, one of America's premier content companies. Anonymous has produced many movies including the Academy Award winning, "Spotlight"; "The Revenant," "Babel," "Eternal Sunshine for the Spotless Mind," "Winter's Bone," and "Fifty First Dates." In television, Anonymous produced "True Detectives," "Mr. Robot," and "13 Reasons Why." Anonymous produces many of advertising's finest commercials and represents many of Hollywood's major talents. David's media expertise has made the firm a knowledgeable player in the era of convergence. The company represents content producers and distributors.
Locally, David has been dedicated to the District of Columbia community since the 1990s when the firm helped the city narrowly avoid bankruptcy and begin a resurgence that continues today. Since then, Carmen Group has been the leading government affairs firm in DC for more than two decades, playing a role in virtually every major real estate, health care, education, procurement reform and tax incentive initiative during that time.
David follows a strong government tradition. His father, Gerald, held posts including Ambassador to the United Nations and Administrator of the General Services Administration.
David is a past member of the Young President's Organization, a former trustee of American University and Sarah Lawrence College and a past director and officer of Community Connections, the largest provider of behavioral health services to those in need in Washington, DC. He is also a past trustee of the National Children's Museum.